Our FFPE Tissue Sample inventory
BLADDER

traditional cell carcinoma, adenocarcinoma, papillary carcinoma, benign

BRAIN

glioblastoma multiforme, anaplastic astrocytoma, anaplastic meningioma meningioma, oligodendroglioma

BREAST

ductal carcinoma, lobular carcinoma, medullary carcinoma, mucinous carcinoma, paget's disease, cribriform carcinoma, inflammatory, various benign

CERVIX

squamous cell carcinoma, clear cell type carcinoma, various benign

COLORECTAL

adenocarcinoma, GIST, squamous cell carcinoma, polyps, benign

HEAD AND NECK

squamous cell carcinoma, adenolymphoma, adenoid cystic carcinoma, benign

KIDNEY

clear cell type carcinoma, oncocytoma, chromophobe, angiolipoma, benign

LIVER

hepatocellular carcinoma, cholangiocarcinoma

LUNG

adenocarcinoma, squamous cell carcinoma, bronchioloalveolar carcinoma, neuroendocrine carcinoma, large cell adenocarcinoma, small cell adenocarcinoma, basaloid squamous cell carcinoma, inflammatory myofibroblastic, mesothelioma, adenoid cystic carcinoma, infectious, COPD, benign
SKIN

squamous cell carcinoma, benign

STOMACH

adenocarcinoma, signet ring cell carcinoma, mucinous adenocarcinoma, GIST, benign

TESTIS

THYROID

follicular carcinoma, papillary carcinoma, medullary carcinoma, benign

UTERUS

endometrioid adenocarcinoma, sarcoma, leiomyosarcoma, benign

ESOPHAGUS

squamous cell carcinoma, adenocarcinoma, benign

ADRENAL GLAND

corticosterone, pheochromocytoma,

MELANOMA

pigmented, non-pigmented, ulcerated, non-ulcerated

SOFT TISSUE SARCOMA

fibrosarcoma, leiomyosarcoma, rhabdomyosarcoma, liposarcoma

PANCREAS

adenocarinoma, acinar cell carcinoma, ductal adenocarcinoma, cystadenocarcinoma

PROSTATE

adenocarcinoma, hyperplasia

OVARY

serous carcinoma, endometrioid, mucinous carcinoma, clear cell carcinoma, various benign

LYMPH NODES

T-cell lymphoma, large cell B-cell lymphoma, diffuse B-cell lymphoma, small B-cell lymphoma, anaplastic lymphoma, hodgkin's lymphoma, MALT lymphoma, burkitt lymphoma, benign
order FFPE Tissue products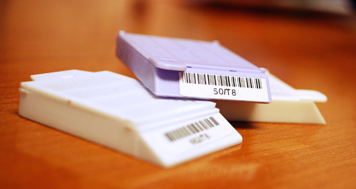 what are FFPe samples?
Formalin-fixed paraffin-embedded samples are a common method for the storage of specimens for disease research. They are an important resource for time-based studies because they can be stored indefinitely at room temperature. DNA and RNA can also be recovered over very long periods (decades) since the time the original sample was produced. FFPE is a widespread form of sample storage, so there are vast archives of specimens available that users can select from.
One of the challenges with FFPE tissue blocks is that it can be difficult to extract information from them because severe damage and decay as well as molecular or biological changes can occur throughout the treatment and storage of these samples. Additionally, formalin is toxic and the process of paraffin-embedding can take a long time. They are typically not suited for molecular analysis and there are no standard protocols for FFPE preparation, so there's no guarantee each sample was prepared the same.
There have been many recently published discoveries of gene variations, gene expression profiling changes, and protein biomarkers found with FFPE tissues.
FFPE QUALITY STANDARDS
All formalin-fixed, paraffin-embedded (FFPE) tissue specimens are collected under IRB approval by certified medical pathologists.

All tissues are fixed in 10% Neutral-Buffered Formalin (NBF) within 30 minutes of surgery excision.

Tissues are fixed for 18 – 24 hours at room temperature, then embedded in IHC-grade paraffin.

The standard sample size is 1 x 1 x 0.5 cm but can vary based on the nature of the disease or tissue type.

The fixation agent and embedding media can be customized upon request.

FFPE tissue samples are stored at room temperature.

Unless indicated, all FFPE tumor tissues have at least 50% tumor content.